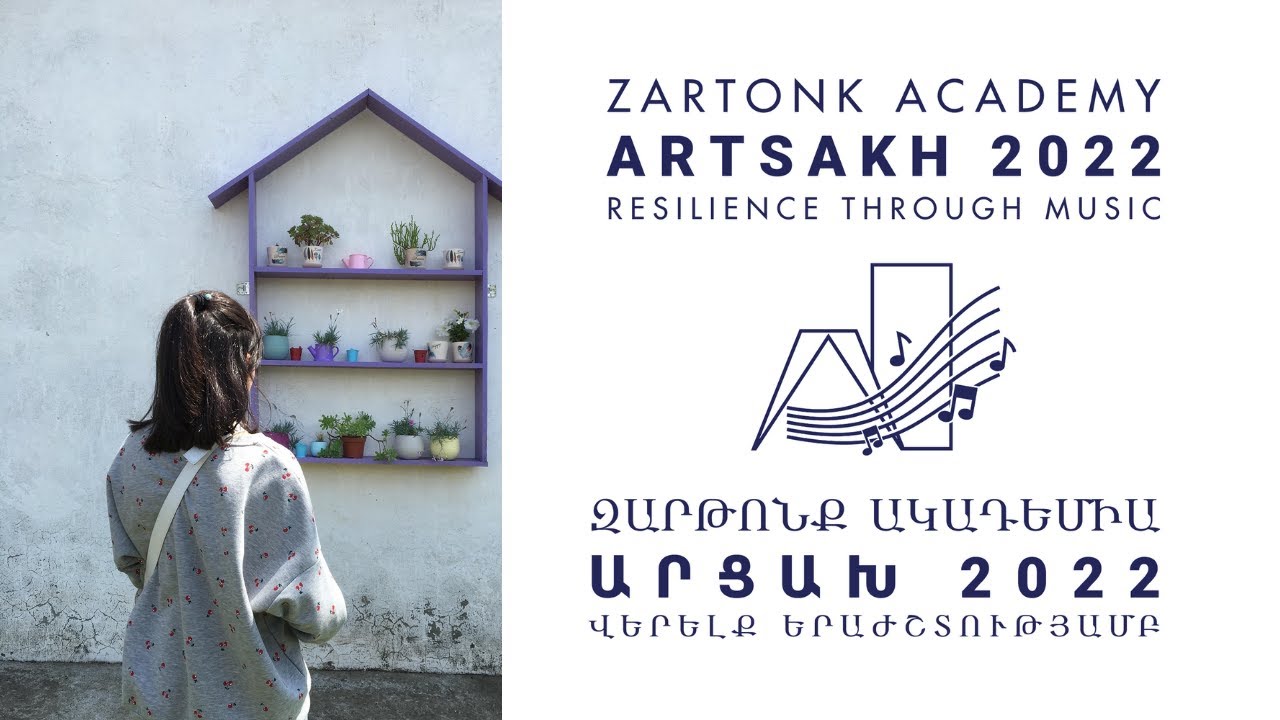 Donate Easily Without Fees
Paypal Giving Fund Will Send You a Tax Receipt to Your Email.
Click Here to Make a Difference Today!
If you need a tax receipt from the USA, donate to our Zartonk project through our USA partner, Armenia Tree Project. Simply indicate "Zartonk" in the "Special Instructions" section.
ZARTONK ACADEMY NARRATIVE REPORT
Here we present to you details on Zartonk Academy: Resilience Through Music which took place in Artsakh from July 18 to 31, 2022. The first Zartonk Academy took place in 2019 in Vanadzor. We feel very privileged to have been able to go to Artsakh and meet so many courageous and generous Artsakhtsis. They accepted our students, faculty and staff with open arms and opened all doors to make this project a success.
The efforts of the Zartonk Academy do not end with its two weeks in Artsakh, we are committed to providing scholarships to selected students currently attending music schools, helping repair their instruments and building on their skills as they move forward with hope and faith in their future.
WHO? Led by international opera star Hasmik Papian, our Artistic Director, Zartonk Academy is a program of the Atken Armenian Foundation. We collaborated with the Government of the Republic of Artsakh as well as international and local artists and partners, including music schools, cultural centers and creative labs.
WHAT? A summer music academy modelled on proven state-of-the-art music training mechanisms. The Academy consisted of Folk, Chamber, Voice, Jazz, and Creative Writing masterclasses as well as a Junior Music Academy led by international and local artists. Zartonk in Artsakh included collaborations and live performances, creative programs with local partners, scholarships for participants and much more.
WHERE? Stepanakert, Republic of Artsakh.
WHEN? July 18-31, 2022.
WHY? With the war, pandemic and political unrest in the region for the past few years, the grief-stricken people of Artsakh are in need of uplifting and enriching programs. This is especially true for its young, trauma-inflicted population who need positive and practical ways to be inspired for their future. Music can strengthen community, form identity, and build bridges; it is also a healing force that can help build resilience. This program brings real change—an Awakening or Զարթոնք—not only for the youth and people in arts and education but also to Artsakh's public at large living in this post-war climate.
HOW? Fully funded through fundraising efforts of the Atken Armenian Foundation and its partners. Local authorities provided locales, concert halls, and PR efforts to publicize the masterclasses and concerts to encourage local participation.
SUMMARY
Over 70 talented Armenians, ages 8-24 (17 from Armenia and the rest from Artsakh) participated in our two-week program of masterclasses provided by renowned Armenian artists in the classical, folk, chamber, jazz musical genres and creative writing. During this time, we also held 9 concerts where we were able to present our students and their talent and thus bring cultural rejuvenation to the people of Artsakh. The goal of Zartonk Academy: Artsakh 2022, (''Zartonk'' translates as Awakening or Renaissance), is to bring hope and resilience to the people of Artsakh living in the post-war climate. Our efforts in Artsakh showed just that: rejuvenation, hope for the future, and faith to move forward together.
Of particular note was the strong encouragement from the Chief of Staff of the Government of Artsakh, Dr. Artak Beglaryan whom we met on several occasions. The deputy minister responsible for Culture, Lernik Hovhannisyan, helped with issuing Visas for our Canadian, Belgian, and US faculty and staff as well as authorizing us with the use of the infrastructure we needed, from the Sayat Nova Music College to the concert halls in Stepanakert and Martuni. Our meeting with the Human Rights Ombudsman Gegham Stepanyan led to an interesting discussion on the rights of the child and how Zartonk was providing rights such as quality education, hope, and empowerment.
While there, we discovered some outstanding "hidden" talents from Artsakh; let us mention four. The first two were Maria and Shiraz. Maria is ready for university studies and needs funding for this big move, Shiraz, a young 17-year-old tenor, has the most beautiful voice timbre and could very well be the next Pavarotti if we support him! In young 9-year-old cellist Levon, we found a stunning and rare talent: he is imbued with music from head to toe. Finally, we cannot forget Tateos, a hero from the 44-day war, and a truly marvellous Tar player and spokesperson for his art. Each one of these youths is an example of the talent that needs support to ensure that they become the next cultural ambassadors of our Nation.
Our Artistic Director, the internationally acclaimed opera singer Hasmik Papian, has been instrumental in making Zartonk Academy a success. Her masterclasses were sensational and her participation in our Gala Concert, attended by several dignitaries, a delight. Having the backing of such an artist made a strong impression on the public and helped empower students, faculty, and the audience alike.
Our creative writing participants, all from Artsakh, began producing their texts with the help of Zartonk faculty poet Hasmik Simonian. An interesting blend of local Armenian dialects was put to paper and the youth of the region was indeed given a voice, finally! They wrote about tragically lost worlds and happy memories of growing up in Artsakh: their Home.
On the final day, we all met at the Papik Takik ''We are our Mountains'' monument representing the Artsakh population's will to survive all odds—to stay on the land they feel grounded on, an integral part of.
OBJECTIVES ACCOMPLISHED
Some of the main objectives of this project were to promote creative thought, collaborative spirit, and societal transformation through the interlacing of the arts, technology, tradition, and the natural environment. In just two weeks we were able to contribute to:
The uplifting of the spirit in the people of Artsakh

The building of lifelong collaborative momentum between our students, faculty, as well as local and international communities and organizations

The improved quality of music education in Artsakh through our professional development sessions for teachers

Infrastructure development through the growth of our musical instrument bank (for Artsakh) and repair work on pianos at the institutions we collaborate with

Considerably improving the quality of musical and artistic expression and proficiency in our students

Adding new layers of creative possibilities between Armenian folk music, jazz, creative writing, and the classical music repertoire

The valorization of the need for culture to build resilience in populations in crisis

A clear demonstration of traditional Armenian culture from the Artsakh region through concerts, masterclasses, and classes dedicated to the musical culture of Artsakh

A general strengthening of Artsakh cultural identity and self-determination goals.
Finally, in the words of young tar-player Tateos mentioned earlier:
"We needed a program like this, especially now, since our nation is traumatized in every way, due to so much loss of lives, our lands, our everything . . . These types of important cultural efforts help us feel strong on the land we have and to show the world that we still exist and live here."
SELECTION OF ZARTONK ACADEMY IN THE MEDIA
JUNE 6 - PODCAST: LET'S TALK OFF THE PODIUM WITH TIGRAN ARAKELYAN
JULY 21 - ARTICLE ON ARAVOT.AM
JULY 21 - ARTICLE ON VARDANANQ.AM
JULY 26 - ARTSAKH TV NEWS
JULY 28 - AZAT ARTSAKH TERT ARTICLE
JULY 28 - ARTICLE ON ARTSAKH PRESS
JULY 29 - AZAT ARTSAKH TERT ARTICLE
JULY 31 - ARTSAKHPRESS.AM ARTICLE
JULY 31 - ARTICLE ON ARAVOT.AM
AUGUST 1 - ARTSAKH NATIONAL RADIO INTERVIEW
AUGUST 1 - ARTSAKH TV NEWS
AUGUST 23 - SHORT FILM BY ZARTONK ACADEMY PARTICIPANT SHUSHAN AYVAZYAN
SEPTEMBER 9 - DOCUMENTARY SERIES ON ZARTONK BY ARTSAKH TV
ZARTONK CONCERTS
JULY 23 - RECORDING AT GANDZASAR MONASTERY
JULY 25 - GALA CONCERT
FOR MORE INFORMATION AND STORIES FROM ZARTONK AND BEYOND, PLEASE FOLLOW (AND SHARE!) OUR FACEBOOK PAGE AND WEBSITE FOR REGULAR UPDATES ON OUR WORK.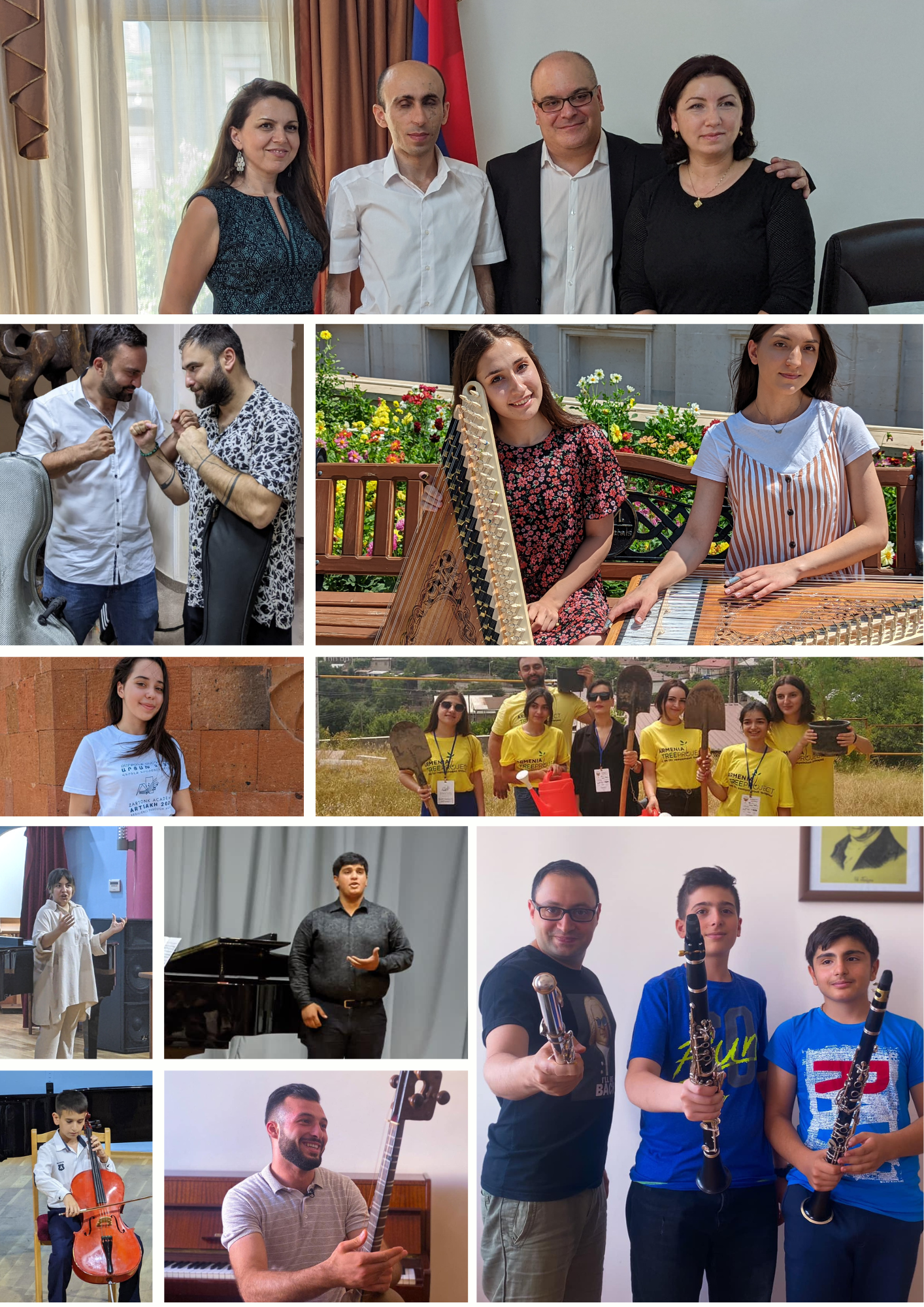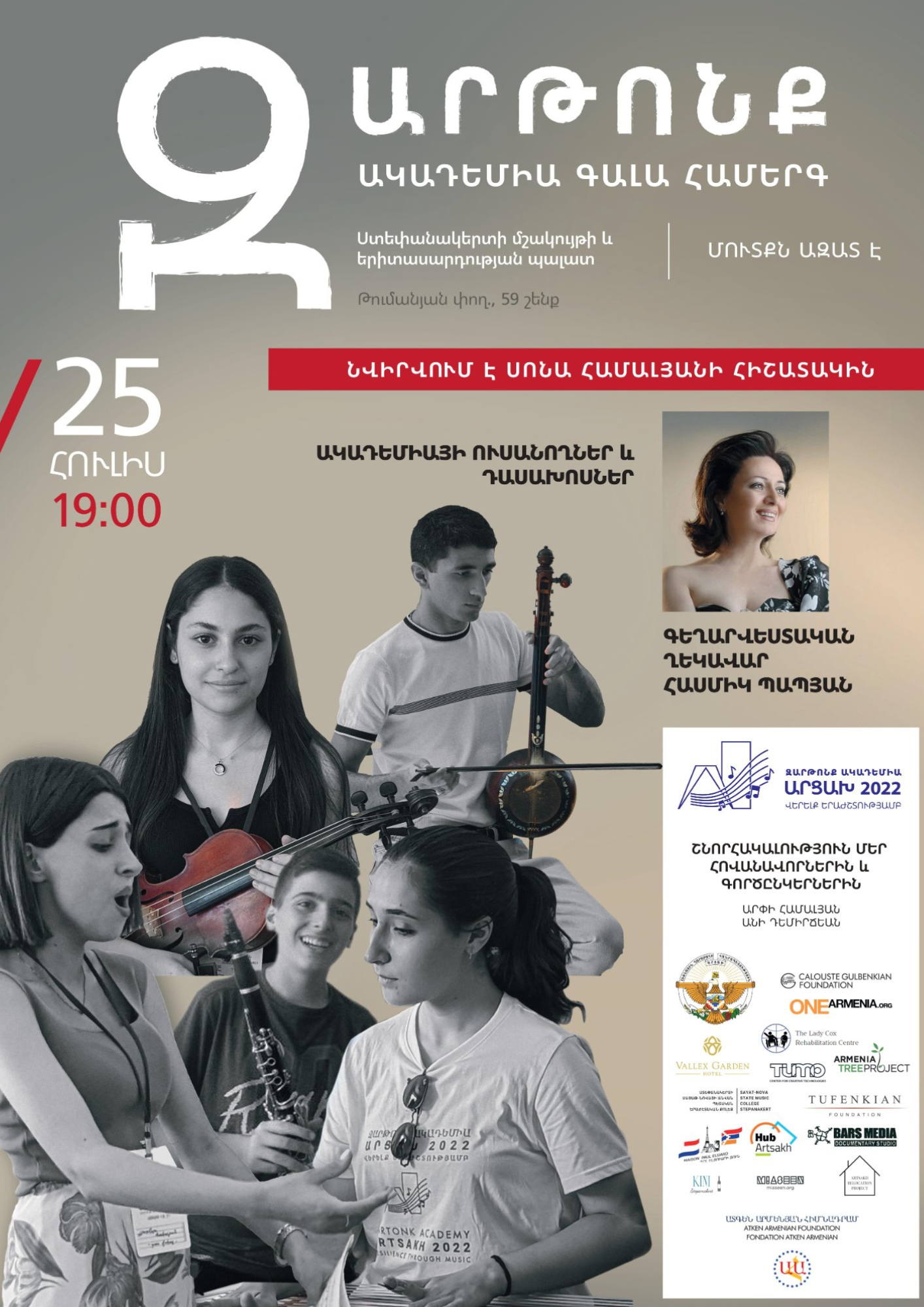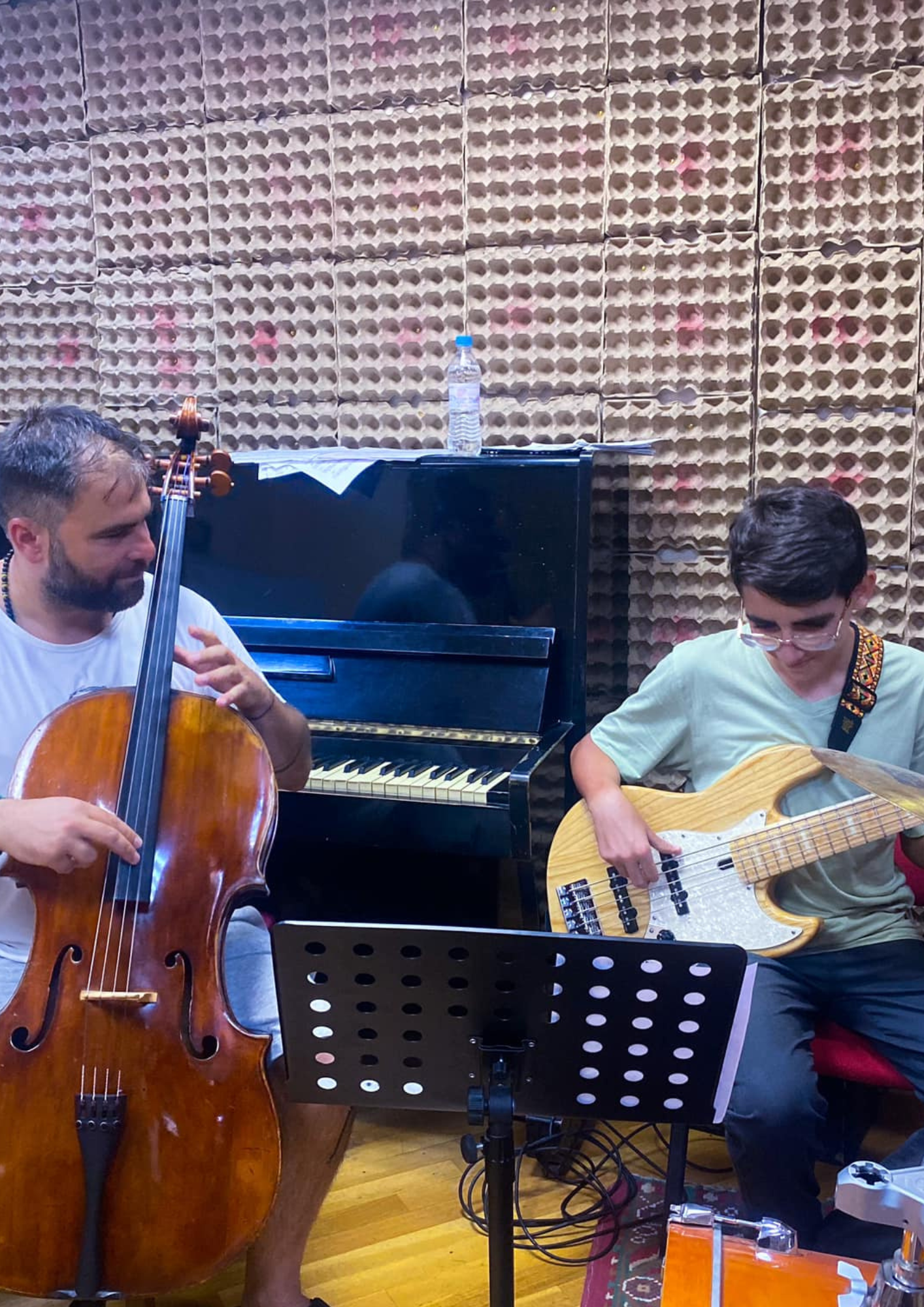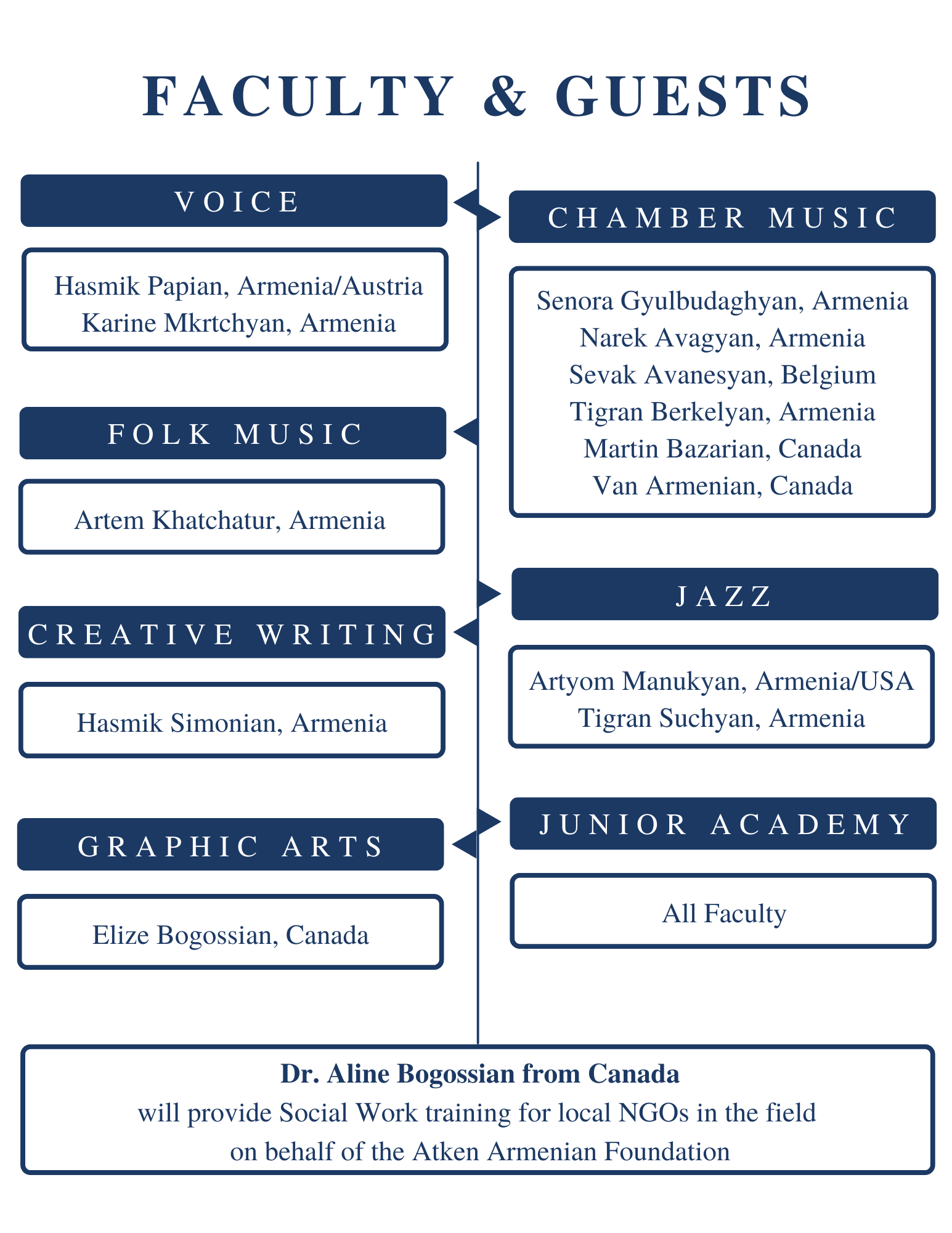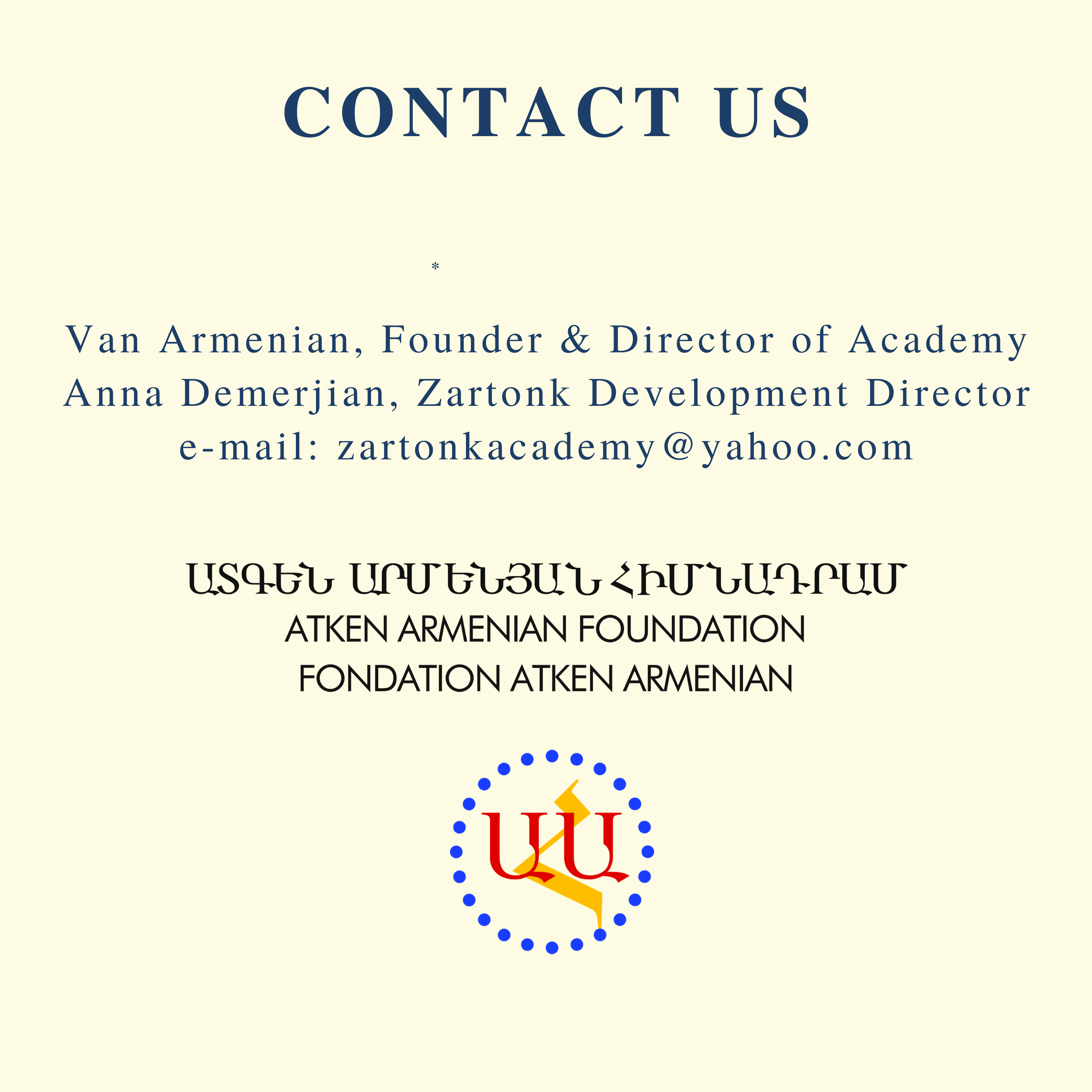 DONATE DIRECTLY
or
Mail your cheque to:
Atken Armenian Foundation
2110 rue Harbour
Laval, Quebec
H7T 2M5
Don't forget to:
1) Always include your contact information for your tax receipt
2) Indicate clearly for what project you are donating.
100% of your donation will go to that project, no overhead, no salaries to pay, we at the AAF are all volunteers.
The AAF is a registered Canadian Charity (BN: 851162461RR0001) and provides tax receipts for all donations.