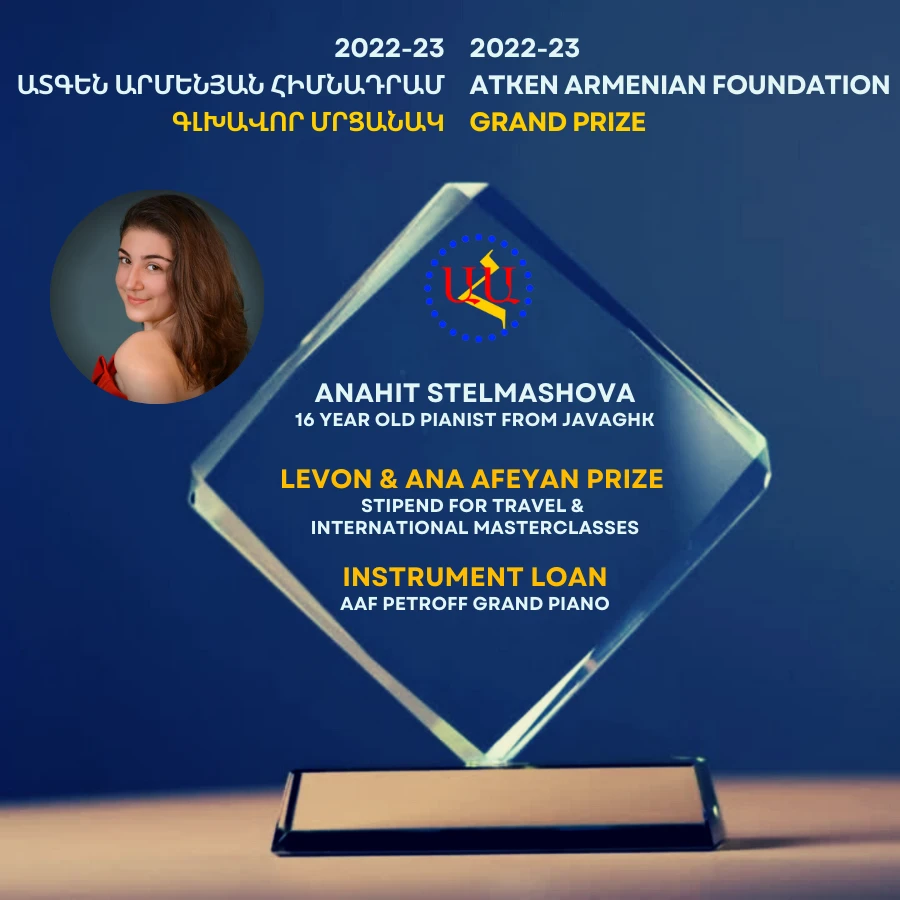 Our wonderful Anahit performed two concertos in Yerevan with the Opera Theatre Orchestra under Karen Durgaryan this year; it was sensational! Anahit is a young Armenian pianist from Javaghk in Georgia and has won several international competitions. The AAF gives her a yearly stipend and provides her with a grand piano to practice at home thanks to Levon Afeyan, the Republic of Armenia's honorary consul in Quebec and his wife Ana. She also receives great support from the Ministry of Culture of Georgia as well as Michel Sogny's Foundation SOS Talents (France). In the summer of this year (2022) she participated in a two-week masterclass in Prague with the great Avedis Kouyoumdjian from the University of Music and Performing Arts in Vienna and the Queen Elisabeth Music Chapel in Belgium. All expenses were covered by this scholarship.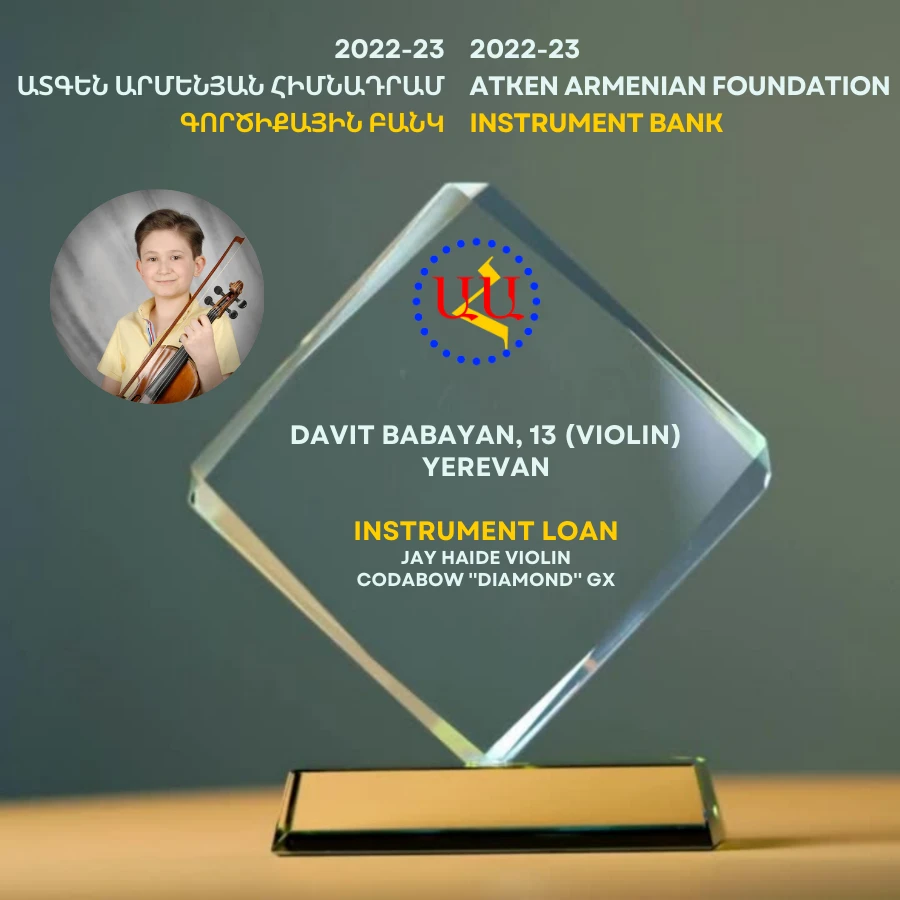 13-year-old Davit Babayan is one of Armenia's top violin talents. He is the winner of several national and international competitions and recently performed as a soloist with the Russian Philharmonic Orchestra. He plays a violin and bow on loan to him from the Atken Armenian Foundation instrument bank and is a member of the "New Names", "Meknark" and "Artis Futura" programs. He is a student of Professor Alexander Kosemyan in Yerevan. This young talent deserves all the support his Nation can give him, including, at his level, a much better violin! We hope to be able to provide him with a violin on loan that reflects his level of playing. If you have such an instrument, please get in touch with us directly.
Go forward confidently in your work, dear AAF. I am one of those MOTHERS whose child you support. God bless. Let there be no one who tries to hinder your good work.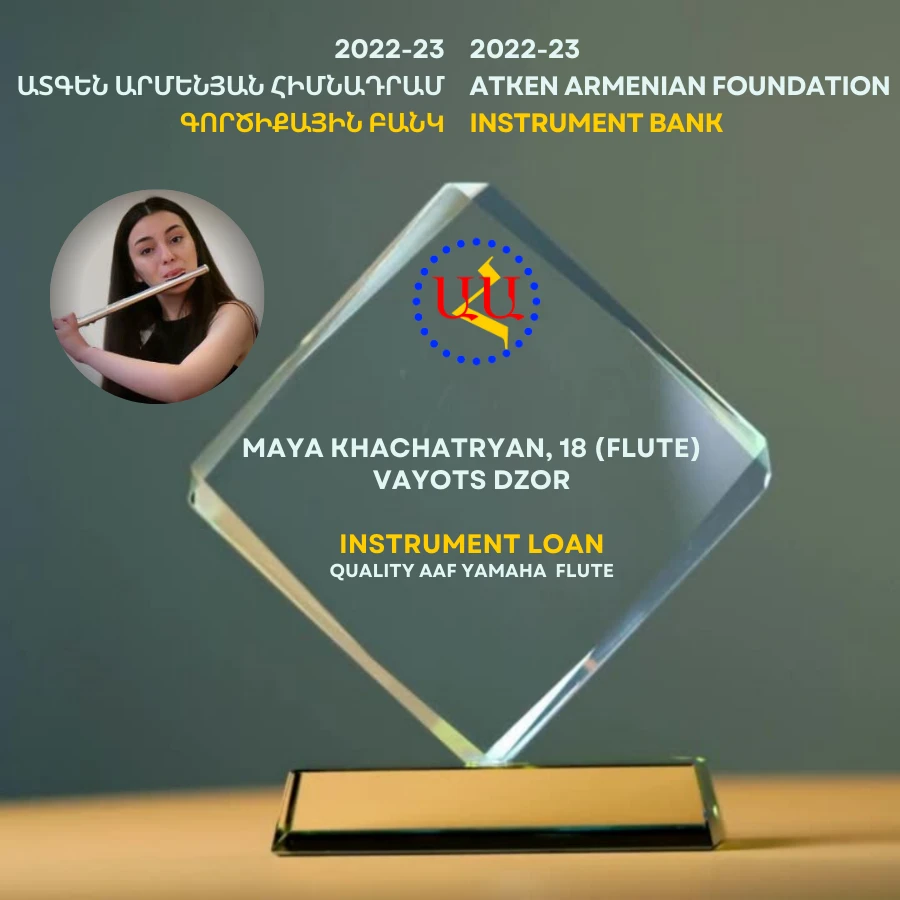 18-year-old Maya Khachatryan was born and raised in Yegheknadzor, Vayots Dzor region where she took violin and flute lessons. Last year, with the support of the Atken Armenian Foundation, she was able to take lessons in Yerevan with the principal flutist of the Armenian Philharmonic Orchestra, the amazing pedagogue and Zartonk Academy faculty, Narek Avagyan. This year she was accepted as a student in the top music school in Armenia, the Komitas Conservatory and continues to play on a great Yamaha 221 flute on loan to her from our Foundation. Best of luck in your studies dear Maya!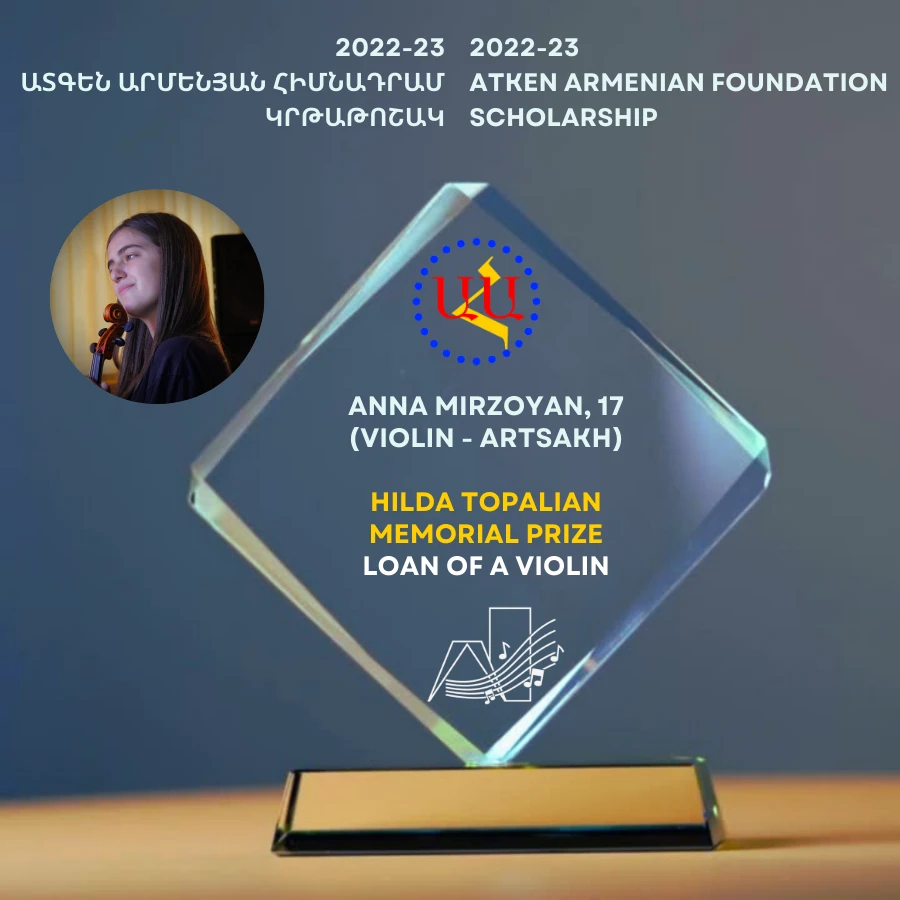 Young Anna from Artsakh is one of our several talents benefitting from our Musical Instrument Bank. She plays on a good German violin donated to the AAF by the Topalian family from the UK in memory of their mother the late Hilda Topalian.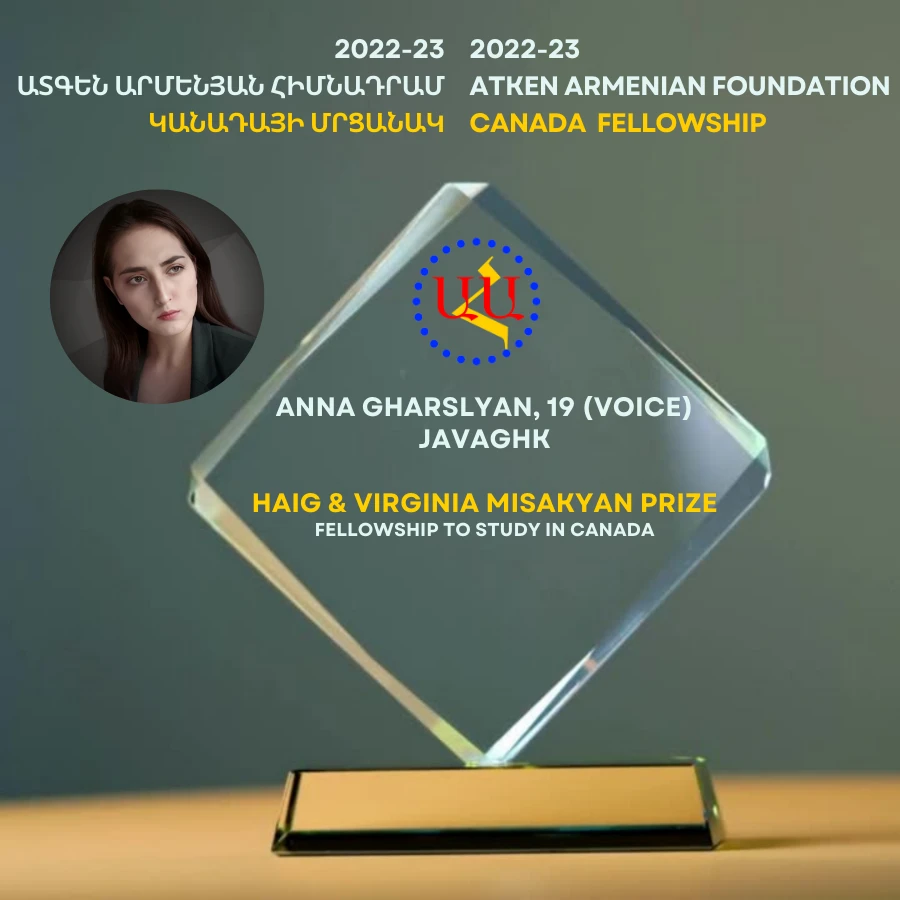 19-year-old Anna was born in the town of Ninotsminda, in Javaghk, Georgia. She has won several competitions in Armenia, Georgia and Italy. A participant of Zartonk Academy in 2019, Anna was noticed by soprano extraordinaire and Atken Armenian Foundation board member, Aline Kutan. Recently, Anna participated in a series of master lessons with the world-renowned Hasmik Papian in Yerevan in preparation for her upcoming visit to Montreal, Canada (we are still waiting for the visa) to study with Aline. Once in Canada, she will audition for entry into a major Canadian university to complete her vocal training with Aline. We have the wonderful Virginia Misakyan of Toronto to thank for the continued support shown toward Anna. We encourage you, our FB fan (
) to reach out to us to donate. There is an urgent need for finances now, to be able to continue our work empowering talents like Anna.
Dear Virginia Misakyan


For many years, I have been honoured to be part of the AAF scholarship program. This year I took lessons from the world-famous singer Hasmik Papyan, which always seemed like an unreal dream. Now I have the opportunity to continue my studies in Canada, to study with Aline Kutan! . . . Your annual support means a lot to me. Apart from the fact that I get lessons from the best professionals, I become more determined and realize that there are people around me who are working hard to support me and many other budding musicians to become established. . .
I promise not to disappoint you.

With love, Anna Gharslyan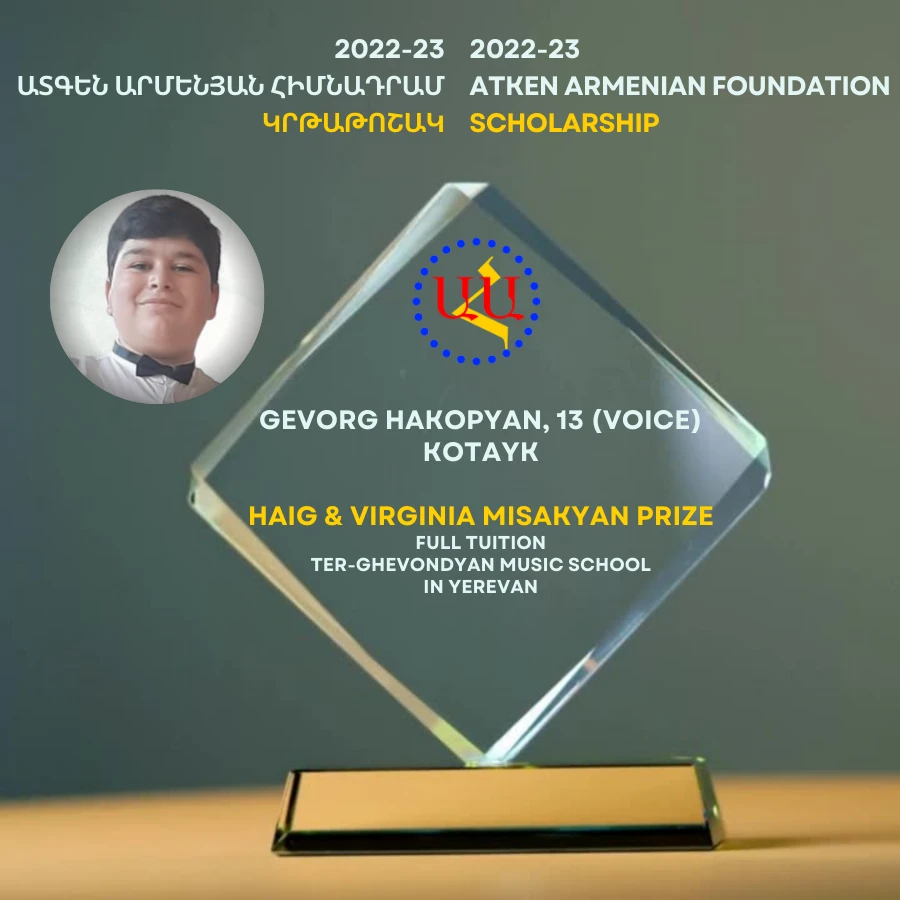 13-year-old Gevorg Hakopyan from the town of Kotayk has been an AAF fellow for several years already. After participating in our 2019 Zartonk Academy, Gevorg has been developing into an excellent musician with the superb training given by his teacher Lilia Gijlaryan. Gevorg has won several important national competitions already and dreams to be on the major opera stages of the world. His natural talent and work ethic will certainly help him achieve this goal, but the financial assistance provided by the Misakyan Family of Toronto, for which he is grateful, is essential to realize this mission. Join our donor list today and let's provide these hand-picked talents with the best foundations for success.
Hello everyone! I am Gevorg Hakobyan and I am proud and grateful to be a fellow of the Atken Armenian Foundation. Thank you very much for helping me reach my dreams of attaining excellence in music. I just love to sing and perform! I thank my teacher (Lilia Gijlaryan) for her dedication, hard work, and for instilling in me the importance of singing—to be a part of the worthy culture of my country . . . May the dreams of many students like me come true; may music spread the light of kindness in the Armenian world.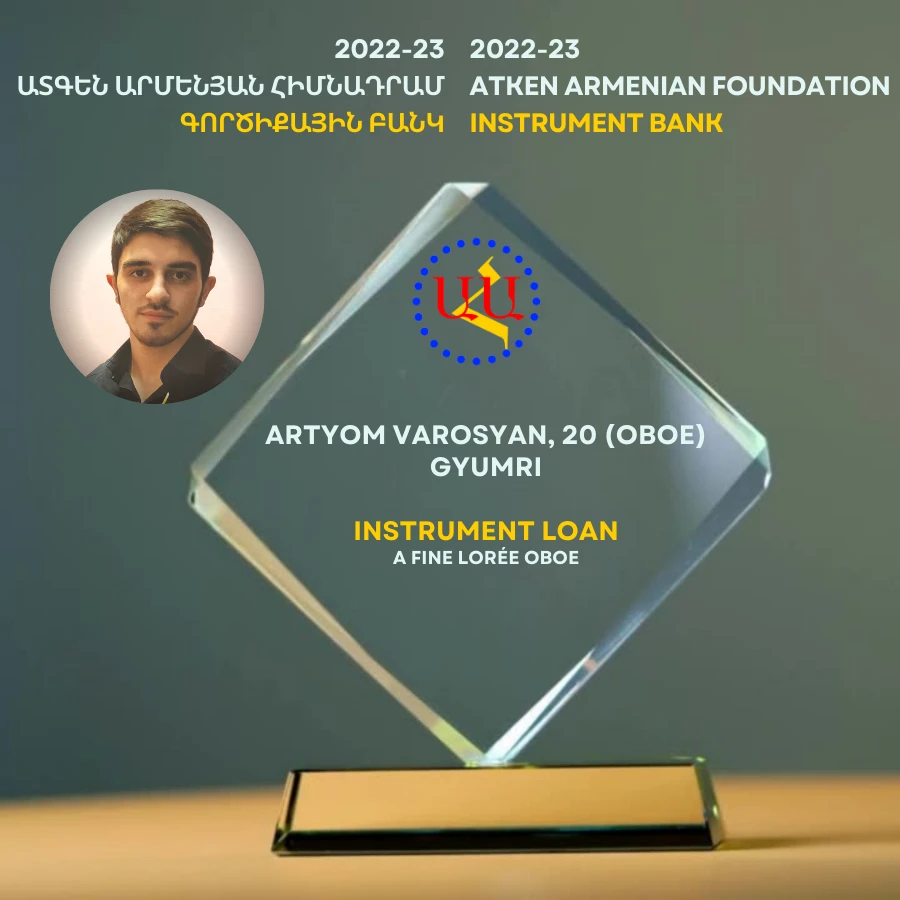 Since 2019, the Atken Armenian Foundation had provided Artyom Varosyan (Gyumri) with the opportunity to study on full scholarship with the first oboist of the Armenian Philharmonic Orchestra, Harutyun Shakhkyan. In September, Artyom was accepted on a full scholarship to the world-renowned Gnessin Music School. Of note: Artyom completed his army service this past summer, a sacrifice for which the whole AAF family is extremely grateful. Now it is your turn, dear donor, to pay it forward with a donation in support of great talents like Artyom, who will need a better oboe, who will need funds to participate in competitions and auditions in order to reach his full potential as an ambassador for his Nation.
Thank you to the Atken Armenian Foundation for its patriotic activities! Varosyan family, Gyumri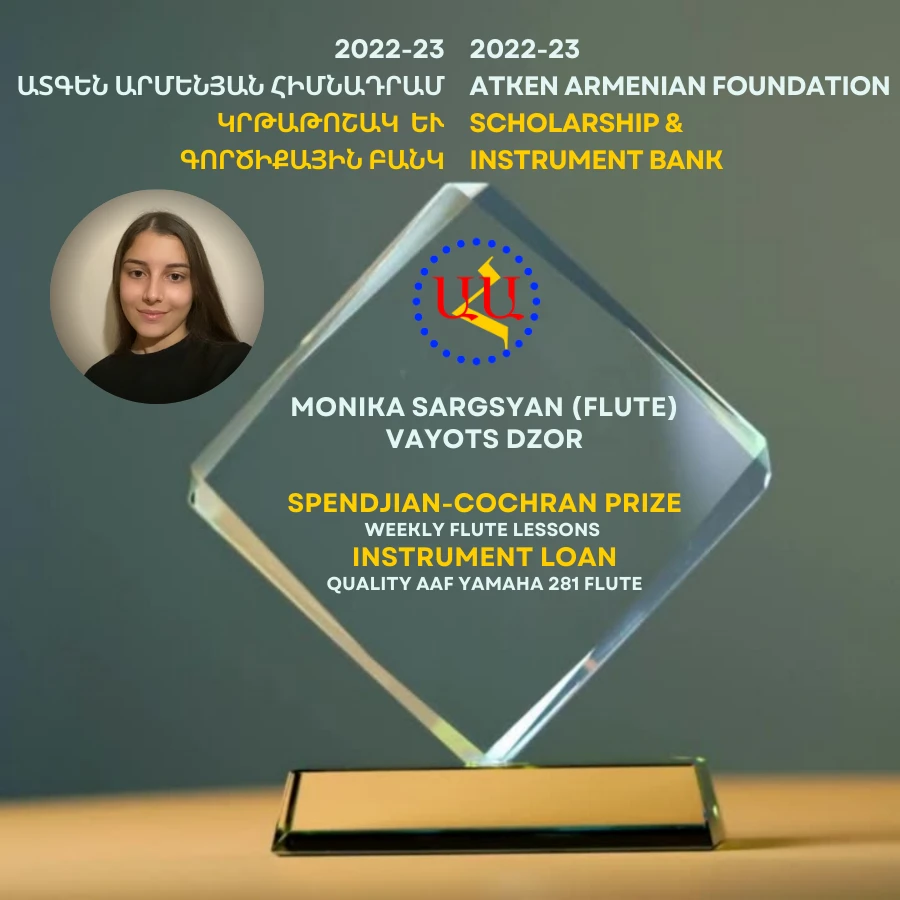 16-year-old Monika Sargsyan from Yegheknadzor (Vayots Dzor region of Armenia) has been with the Atken Armenian Foundation for several years. We are proud to lend her an excellent Yamaha flute and fully fund her private studies with the principal flute of the Armenian Philharmonic Orchestra, the fantastic Narek Avagyan. A wonderful couple, Greg Spendjian and Donna Cochran of Salt Spring Island, generously support the Atken Armenian Foundation allowing us to provide essential empowerment to talents like Monika. Will you join them? Contact us today!
16-year-old Samvel Zakoyan is from the border town of Vardenis and studies the Kemancha with Parndzem Martirosyan at the local music school. He has won several competitions and has performed in Armenia, France, Georgia, Belarus, and recently in Moscow in a concert organized by the Vladimir Spivakov Foundation.We are thrilled to support Samvel realize his dream of representing his nation's culture to the world thanks to the continued support of Antoine and Sheila Terjanian of Ottawa, Canada.
Thank you, Antoine and Sheila Terjanian jan! (Nara Martirosyan, Vayots Dzor)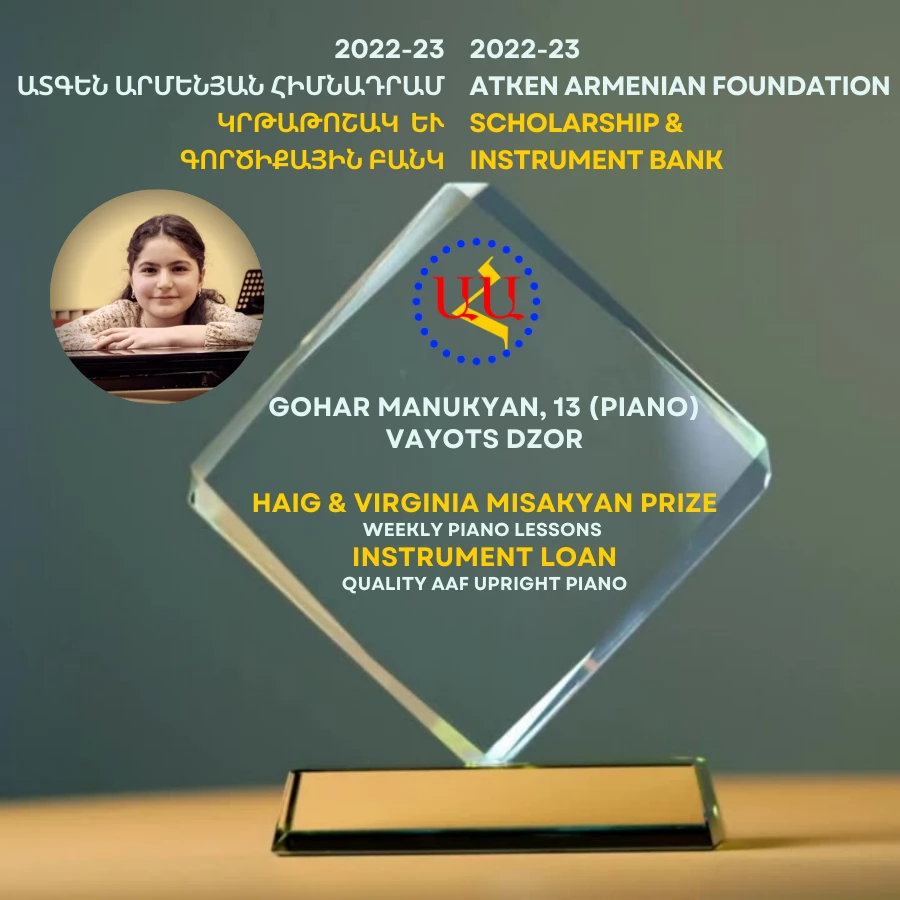 13-year-old Gohar Manukyan was born in Yeghegnadzor, Vayots Dzor province. She was quickly noticed by the Atken Armenian Foundation as a potential talent to support. Today she studies at the Tchaikovsky Music School in Yerevan on a full scholarship. In fact, the family moved to Yerevan to accommodate her studies.Thanks to the kind support of the Misakyan family of Toronto, we were able to buy a good upright piano for Gohar to practice on and are also able to provide her with weekly—and absolutely essential at this level—extra piano lessons with her superb teacher Tigran Berkelyan our main piano specialist. She has won several national and international competitions and last month she performed the Grieg Piano Concerto with the Gyumri Orchestra! Keep your eye on Gohar, she is going places!
Suzanna Saratikyan (Gohar's mother) says: Thanks a lot.Thanks to Atken Armenian Foundation Gohar is improving her skills. We are so grateful to Misakyan family for providing with the instrument.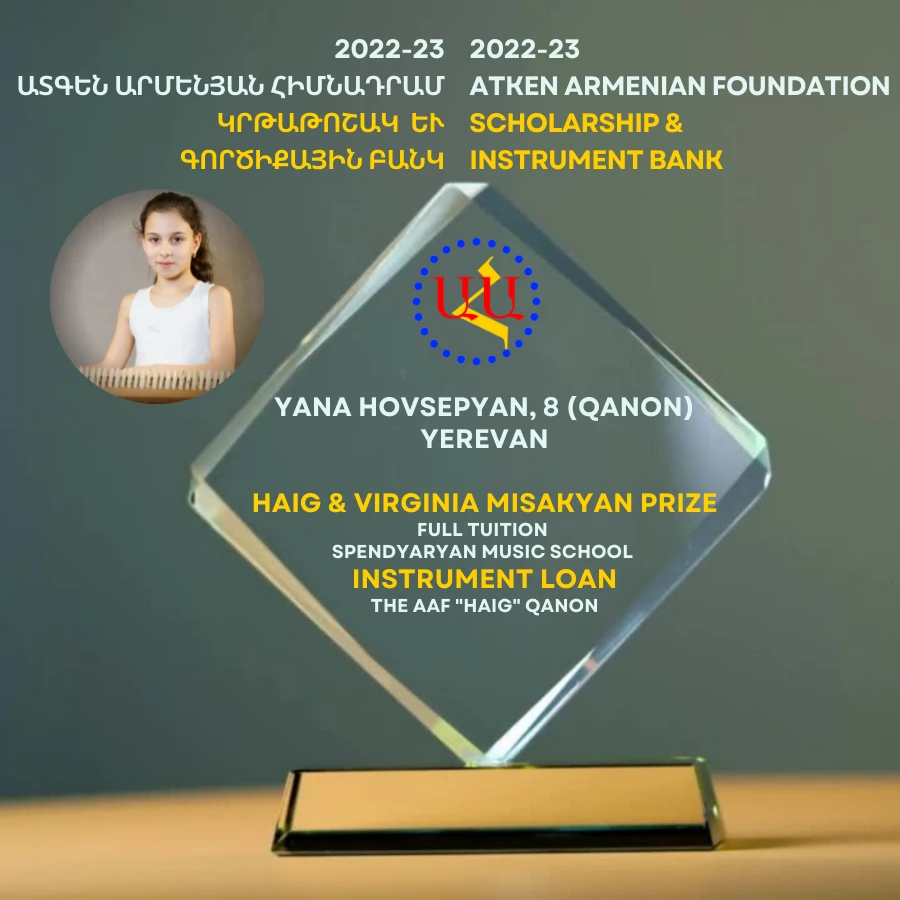 Our youngest Fellow, Yana Hovsepyan, is a mere 8 years old but already shows great promise as a Qanon player. She also loves playing the shvi (her secondary instrument), dancing and painting. The AAF covers her tuition at the Spendyaryan Music School where she studies with Nune Danielyan. Both of our Qanons are works of the master luthier Apress. One is beautifully engraved with the name "Hagop" (the late Haig Misakyan's father's name) in the design, the other with the name "Atken". We imagine both are thrilled that these instruments are resonating with beautiful Armenian folk music by some of the top talents of Armenia in their memory. If you are interested in ordering a new instrument in memory of a loved one, please contact us. The need is great and we know exactly who will need the next Qanon, Tar, or violin!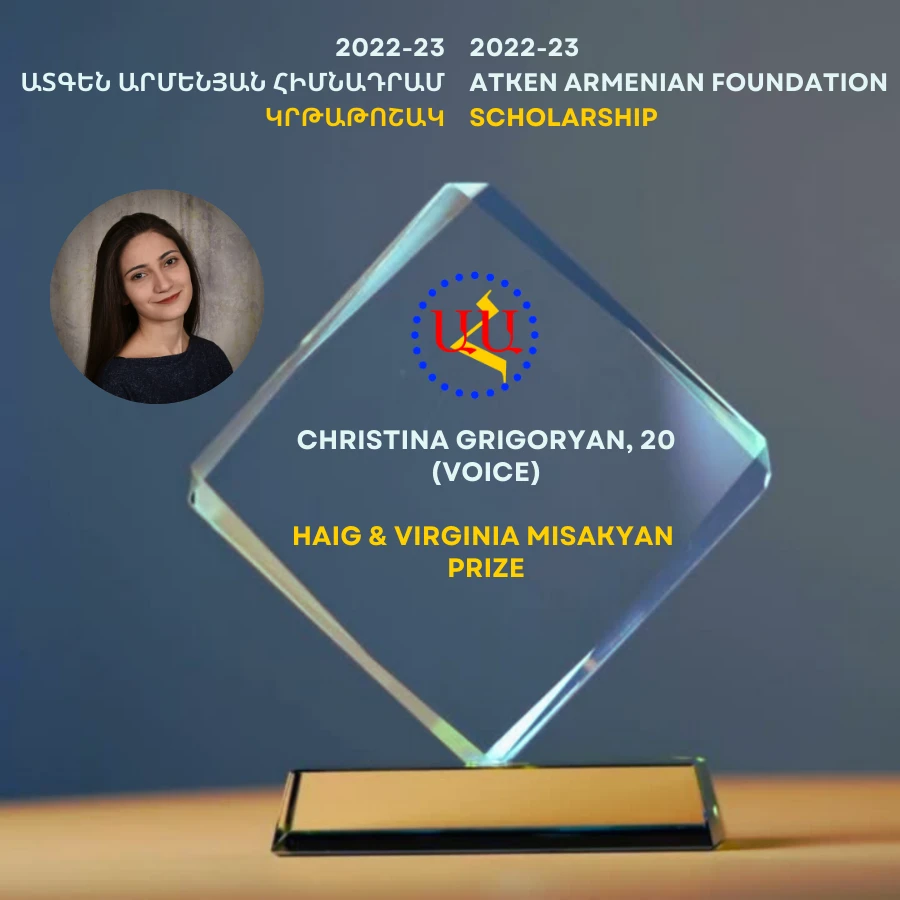 A student of Anna Mayilyan at the Komitas Conservatory in Yerevan, 20-year-old Christina from Vernashen (Vayots Dzor region) started singing in the AAF choir programs. Her studies are funded by the AAF thanks to a generous yearly donation from the Misakyan family of Toronto, Ontario. Christina was also a full-fellow at our Zartonk Music Academy sessions in 2019 (Vanadzor) and 2022 (Artsakh).
337
87 × 287